3 Fulton Road, Wembley, London, HA9 8TS GB
Hurtige fakta
Største billetbeholdning i West End
Ledige pladser vises i realtid
Vælg dine pladser
Din bestilling videresendes straks til billetkontorets reservationssystem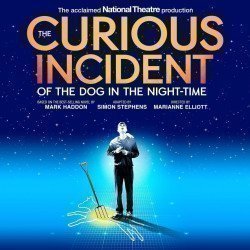 The Curious Incident of the Dog in the Night-Time
4,7/5
-

Baseret på

486

anmeldelser
Bestilling fra: lørdag 20 november 2021
Bestilling til: søndag 9 januar 2022
Spilletid: 2 hours 30 minutes
Billetter fra 212DKK
Bestil billetter
Om The Curious Incident of the Dog in the Night-Time
Aldersbegrænsning
Anbefalet fra 13 år og opefter
Vigtig information
This production contains strobe lighting, smoke effects, high intensity video & light effects, and loud sound effects. Suitable for 11yrs+
There is some strong language in this production, as there is in the novel. This occurs at the very beginning of the show and infrequently at other points during the show.
Latecomers will be asked to wait whilst watching the latecomers' monitor until a scene called 'The Street' before being allowed into the auditorium. This is approximately 15 minutes into Act 1. Audience members arriving after this time will be required to wait until the interval.
Spilletidspunkter
Bestilling fra: lørdag 20 november 2021
Bestilling til: søndag 9 januar 2022
Spilletid: 2 hours 30 minutes
Beskrivelse af The Curious Incident of the Dog in the Night-Time
The Daily Mail, Daily Telegraph, Evening Standard, Guardian, Independent, The Times, Time Out, Londonist, Sunday Times og mange andre har givet denne prægtige forestilling stor ros og blandt andet kaldt den et underværk, en succes set fra enhver vinkel og en triumf, der fanger originaltekstens dybde og rørende karakter og tilføjer teatrets egenskaber med stor succes.
Instruktør Marianne Elliott har fået masser af velfortjent ros for at instruere med samme betragtelige kreative sans og stil, som hun bidrog med som medinstruktør til det store dukkespils-hit War Horse. Du kan forvente samme kvalitetsniveau fra The Curious Incident. Som der stod i The Times: Denne forestilling er en perfekt dramatisk forening af optræden og effekt.
Kommende opførelser af The Curious Incident of the Dog in the Night-Time på Troubadour Theatre - Wembley